Fresh Success – Operating An Effective Farm Shop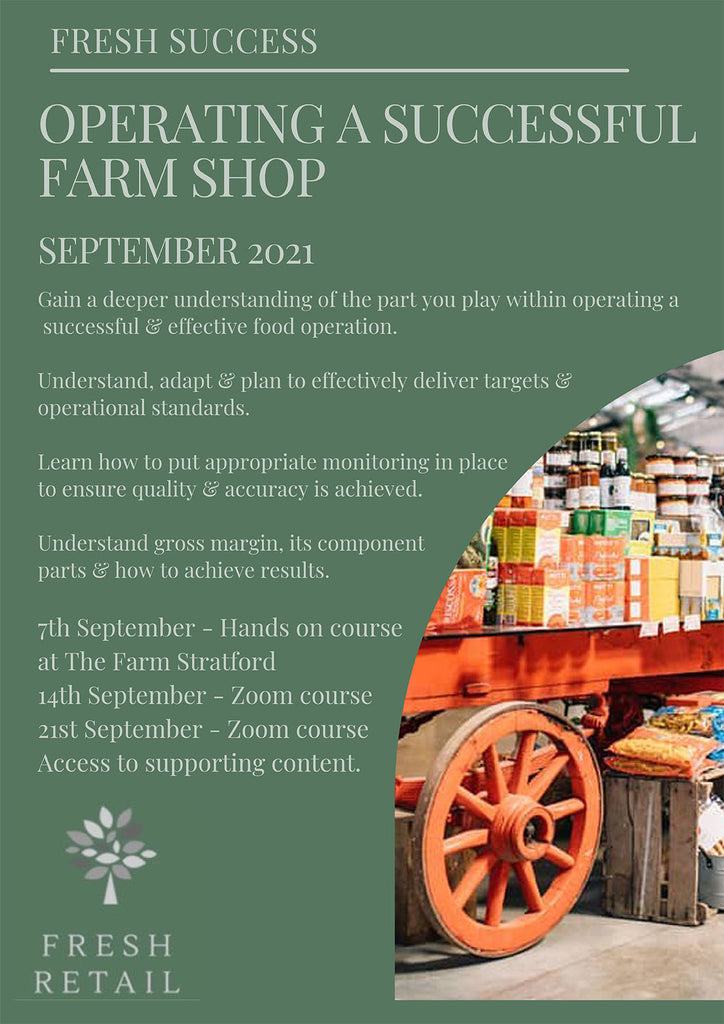 Course Cost: £495 + Vat (per attendee)
Date: 7th September 2021 (for 10 attendees)
Location: The Farm Stratford
Session One - 7th September: On location at The Farm Stratford
Session Two - 14th September: Zoom Call (2 Hrs)
Session Three - 21st September: Zoom Call (2 Hrs)
Access into Fresh Retail's YouTube channel for free support videos
Who is the session for: Senior Managers/Operations/Department Managers within a food business.
Overview of session
Throughout this course participants will gain a deeper understanding of the part they play within operating a successful and effective food operation.
Learn what is within their control and the what the impact of getting it right/wrong could be.
How to understand, adapt and plan to effectively deliver targets & operational standards while applying appropriate processes and checks to ensure that consistency is achieved.
Understand gross margin, its component parts and how to achieve results. Live product costing examples will be used throughout the session.
Break down of a business P&L (Profit and Loss).
What elements of the business fit within each component of a P&L.
What elements are controllable within the retail environment and what the shop team impact.
Overview of product costing (with live example) to review the process end to end, looking at shop delivery in achieving product quality/cost.
Mini project review to take away and complete within own business.
Follow up zoom calls to delve deeper into topic areas and provide further details into achieving longer term impact once the course is completed.
Why attend (Outcomes):
By attending this course you will:
Understand how a full P&L works and what it's measures are.
What measures can be controlled within the retail environment (what is operationally done to achieve the P&L).
Full product costing end to end, looking at a variety of products with different production complexity.
How to put appropriate checks/monitoring in place to ensure quality and accuracy is achieved.
Better communication of why and how things are done.
A requirement of this course will be to undertake your own mini project/review within your business to identify current standards and what can be done to improve them.
Course dates may have to change due to covid regulations. If you are unable to make the alternative dates a full refund will be given.